In this world people have different choices and preference. Some like larger laptops with bigger screen while some like smaller ones due to its less occupying space features. And for that every laptop company is manufacturing different variety of sizes.
So, in this article, we are going to talk about something related to the screen size of your laptop. Today we bring the answer to a very interesting question, 'How To Find Out Your Laptop Screen Size Without Measuring?'
Check Online or Download Software
Most laptop and PC have the software which gives you every single details of your device. At times provide you the screen dimensions along with other display specifications. In addition to that option, the most frequent and the fastest technique is to check the display online.
Search For The Laptop Online
For doing this, you must know the name of your laptop or model number. You can easily notice the model number located on the bottom panel.
Once you have the information with you, it's just a matter of seconds to find the size. Simply type the model number and search it on Google, its original website (manufacturer's website), or the site from where you have ordered or bought the laptop. You can then click on the forthcoming results which matched your query the most. One additional benefit you can achieve from this is that the result will not only show the specifications but also other important hardware information.
So, apart from the above-suggested methods, another question arises is that how do you measure screen size manually? Measuring the size of a laptop is not rocket science. It takes a minimal amount of time and some of your easily found instruments.
Other than the methods mentioned above, You can always use a measuring device or a ruler. Before you take out a ruler and start measuring, let us mention to you that Laptop screens are not measured horizontally or vertically. But it is measured diagonally.
To measure, Simply, place the measuring tape at the bottom right corner of the display screen of your laptop. From the bottom, we refer to the point where there is a display and not the bezels. Then simply stretch it diagonally until it touches the top left corner.
Now the last thing that remains is to read the number of the measuring tape or ruler and BOOM! you will have the size of your laptop's screen.
If you are reading this article because of the fact that you want to know your laptop's size but without measuring, we are pretty sure some other questions may have arisen in your mind too. So let's have a look at some above topic related question.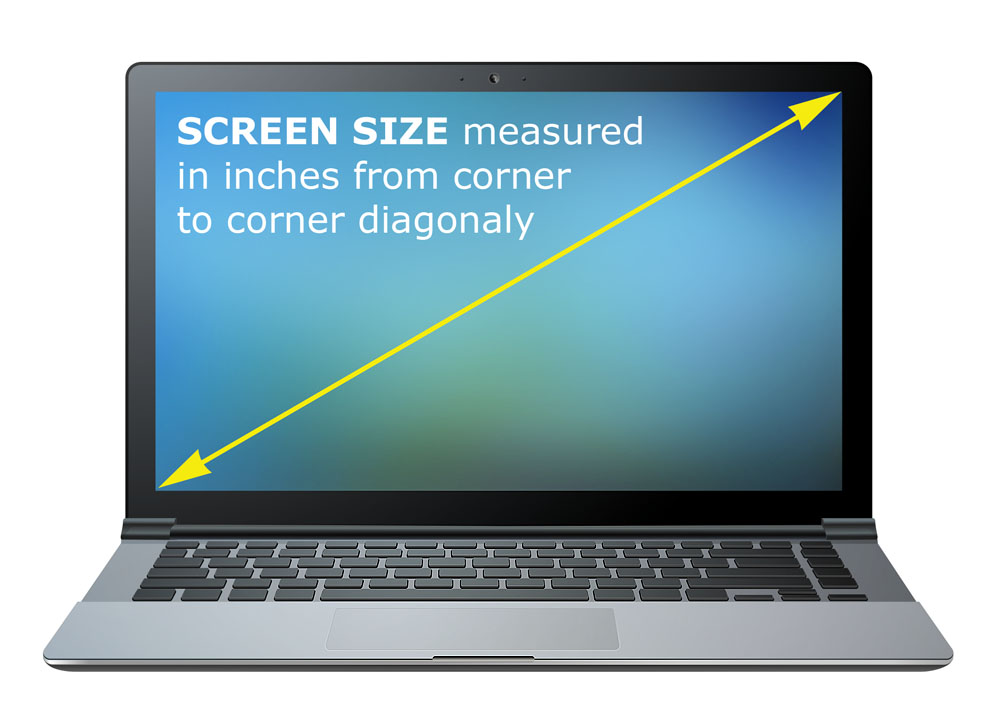 Is Bigger or Smaller size laptops are good?
To answer this question, we would like to say that is completely your choice. Some prefer bigger size laptops and some prefer smaller ones. But both are good in their own way.
What is the most common size of a laptop?
The answer to this question is 15.6 inches widescreen laptops.
Conclusion:
To measure your laptop screen size, you just need a maximum of 2 minutes of your schedule. It is a very easy task to perform. All you need is an internet connection and type your laptop's model number and it will show the best result possible. Also, if you have been using different laptops for a very long time, You might have a rough idea of the display size.
So, this was it on How To Find Out Your Laptop Screen Size Without Measuring.