In this detailed guide, I'm going to discuss with you How To Replace a Laptop Hard Drive With SSD?
Solid State Drive shortened as SSD had a revolutionary impact on storage management since its introduction. They are super-fast in comparison to the traditional HDD.
You can replace your HDD with an SSD which can improve the performance of your notebook manifolds. If you think to upgrade your laptop processor then you can surely do that but remember that some laptops don't support CPU upgrading.
If you want to boost your system performance then you can easily switch to SSD from an HDD. In addition to higher data transfer speed, SSD's are quieter, lightweight, durable, and consume less energy. Their superiority in the task is due to NAND Flash memory instead of any moving parts inside. Once you fit in the SSD you can see dramatic changes in the speed in OS boosting time, file accessing, and application launching.
However, before starting your task to replace the HDD with an SSD you should keep some important points in mind and this guide will help you know all the things that are required to complete your task successfully.
Verify your laptop is out of warranty period
If you want to upgrade your laptop remember that it will void the warranty if any unauthorized activity is performed on it.
Check the present HDD form factor and interface
There are variants in slot size in laptops. Most laptops have a 2.5-inch SATA slot but some notebooks are compromised with a 1.8-inch disk. Apart from this thickness is also a factor as some manufacturers use 7mm drives instead of 9.5mm to order to give a slim finish to the laptop. Old generation laptops might even have an IDE interface for storage drives.
There are mainly two ways How To Replace a Laptop Hard Drive With SSD.
1. Install New SSD in your Laptop along with fresh OS
This process is relatively easier but it would delete your old files. Prepare a bootable media for operating system installation and install once you replace the HDD with SSD.
Every little screw is different and you have to identify it yourself. In some laptops, you can access the storage by just removing one single cover. Whereas in some laptops you need to remove the whole motherboard to reach the storage.
2. How to upgrade HDD to SSD without reinstalling windows?
In this process, you will not lose any data and you can resume your OS from where you left. This process requires some extra tools with the help of which you can clone your existing hard drive into the SSD. Tools like screwdriver and ply will be required along with a SATA-to-USB cable adapter. Alongside the hardware,
Cloning software will also be required. When you connect the USB adapter to the computer the software will help you make the replica of the HDD into the SSD. The process can also be done without a SATA-to-USB adapter but with a bit different process.
Cloning the HDD with an external SATA-to-USB Adapter
There are various software options that you can use for cloning, here we are using the EaseUSTodo Backup program. Follow the steps below.
Connect the SSD to your laptop via a SATA-to-USB adapter. Launch the EaseUSTodo software and search for the clone feature.
Next, select the source drive which is your existing hard drive.
Select the destination disk which is your SSD. From the advanced options tick on the "optimize for SSD" check box and click next.
Preview the final layout of both the disks and then click the Proceed button.
After the cloning process is done shut down the computer. Unscrew the back panel and pull out the HDD.
Remove any HDD bracket if present on it otherwise it will not align properly with your SSD.
Install the cloned SSD into the socket and screw the back panel
Start your laptop all settings will be the same just you'll experience faster booting of OS.
Cloning the HDD without an external SATA-to-USB Adapter: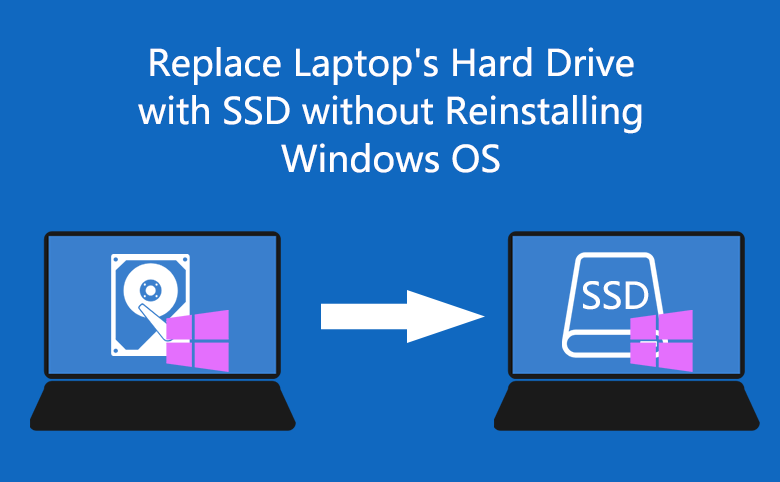 In this process, you'll have to make bootable media such as DVD or USB of cloning software. An external hard drive will be required for such a purpose which will help to store disk images. Use EaseUSTodo software to prepare bootable media.
Launch the program and then click on "Create Emergency Disk". Use either a blank DVD or USB pen drive to store the image. Next, click on Create and wait for a few minutes for the process to complete. Follow the steps below.
From the EaseUSTodo software select the "System Backup" option.
Check on your external hard drive in the destination path. Also manually take the backup of every other drive.
Once the backup process is complete, shut down your laptop and replace the HDD with the SSD as discussed above.
Boot from the Emergency Disk that has your entire data in disk image form. Sometimes you need to change your boot device order in the bios settings.
If the software doesn't automatically find the backup and loads up, then click on "browse to recover". It is generally stored with a .pdb extension.
Select the SSD and keep it on Disk/Partition mode. then click next
Click on confirm and the image restoration process will start. Once done restart your computer.
Conclusion On How To Replace a Laptop Hard Drive With SSD :
So this is the entire process for replacing HDD with SSD. Further, if your laptop has separate slots for HDD then you can easily upgrade one of them to run both HDD and SSD simultaneously. You can also swap hard drives between laptops as long both the laptops have the same interface that is SATA or IDE. Nowadays most laptops are upgradable no matter it has SATA or PATA slots inside it. Just check you have the right materials before operating.
So, this was all about How To Replace a Laptop Hard Drive With SSD. I hope that you have liked our article.
Also Read: How To Charge A Laptop In A Car?