Laptops are one of the most used devices around the world. Its usage requires a good amount of battery life for its function. These batteries are chargeable with help of chargers. But the issue is some people are facing an issue of their laptops not charging even after their laptops are plugged in. If you are among those people, don't worry, today we brought you some amazing solutions to resolve this issue.
Before we show the solutions, first let us address you some of the reason of why is your Laptop plugged in but not charging.
Reasons Why Is My Laptop Plugged In But Not Charging:
1. Defective Charger
Sometimes the problem occurs due to faulty charger. When The laptop is plugged in, the Charger may not provide ample amount of charge to the laptop and results in Not charging properly.
Modern chargers are designed with a third wire which communicates with a laptop and it knows whether the charger has enough power.
2. Bloated Battery
Most laptop batteries are designed with a battery charge cycle. For example, the Common charge cycle is around 400.
So, if your battery is 2 to 3 years old, the chances of it getting depleted is quite high and it may show the issue of not charging.
3. Temperature Increases of Adapter
The power should be cut off as soon as your laptop is charged. Leaving the power on for too long results in an increase in the temperature of the adapter and in such cases the laptop may automatically stop charging in to prevent further damage.
4. Software Crash
Software malfunction is one of the common reasons why your laptop battery is not charging. Although Windows 10 has been programmed in such a way that it is a self-sufficient operating system, but it can miss certain things during its regular updates.
If this happens on regular basis, it can stop the system to accept the power from your AC adapter.
Solutions of Why Is My Laptop Plugged In But Not Charging: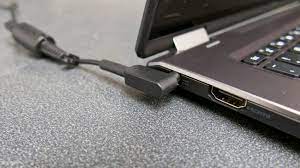 1. Reboot Your Laptop
The traditional way of rebooting the system solves the maximum problems of laptops. As so in this case of not charging, the problem might be solved by unplugging the charger and rebooting the laptop. It works most of the time, especially if the issue is due to a lack of synchronization.
2. Plug-In & Plug-Out Your AC Charger
The most simple trick that works smoothly if the laptop is plugged in and not charging is, unplugging the AC charger snd wait for a minute and then plug it back.
That one minute allows the charger and battery to realign before plugging back the charger again.
3. Uninstall & Reinstall Battery Drivers
If none of the above methods works for you, the only option that remains with you is to reinstall the battery and adapter drivers.
Before you do so, you should make sure that you uninstall them because they might be the reason why your battery is not charging even when plugged in.
4. Disable the Battery Drivers
This method works for almost every laptop, and its success rate is almost 100%. So, instead of uninstalling the battery drivers, you'll choose the disable option.
Just Unplug the charger and leave the drivers disabled for about 10-12 minutes.
Conclusion:
Laptops are a very essential part of our life and their components should be well cared of. So your laptop is not charging even after plugged in, then you should check for the battery whether it is damaged or bloated or even for the damaged chargers, and accordingly lookout for the solutions. And if your solution is mentioned above, you can try it for sure, it works perfectly fine.