In this detailed guide, we have discussed how to charge laptop battery manually:
1. Extra/External Charger:
As the name suggests that it is referring to an external charger and not like other default laptop charger that charges the laptop while the battery is already present in the laptop, or you keep it describe it by saying that the default charger charges the laptop straight away by connecting it to your laptop.
Now let's see how to use the extra charger:
In the matter of external charger, it charges battery directly that is you must first remove the battery from your device and then connect it with the other charger or external charger. These chargers is manufactured with exactly your device model or the brand of your laptop.
In other words, If the charger of your laptop is broken, this could be a saviour for you.
So, the conclusion is that if you are worrying about your laptop that whether it is good or not or it can affect your battery. Well, it's not going to damage your battery as they are made for the exact model of your laptop.
2. USB Port (Type-C)
Well, it is considered one of the best ways to charge your laptop if your device is not getting the amount of charge it needs by your default charger. Many people like me doesn't know that the USB ports present in the device can also be used to charge the device; as we used to know that they are only be used to transfer data but that is not exactly right.
In this modern era, almost all of the laptop comes with varied kind of USB ports viz, A, B, C. But the Type A does not charge your device's battery as it can only be used for outgoing current which means it can charge other devices like laptops, mobiles, but not your laptop.
If you are concerned about your laptop by the fact that by using such technique can damage your laptop in any way don't be scared of it as it is totally a smooth process.
3. Travelling Adapter/Portable Adapter
It is a very productive way to charge your device during the time of your travel. As the name suggests it can only be utilized while you are travelling.
You just require to purchase a travel adapter that works perfectly with your laptop and that's it, now you are charging your device without any hesitation while you are traveling.
It acts like a saviour for those who need to travel regularly and work at the same time. It is transportable to carry around wherever you go so that you don't feel any compulsion to carry it around if you are slothful like me.
4. AC Adapter
If you are not able to charge properly your laptop with your default charger or the charger of your device is damaged, you can also try this technique.
The AC adapter is a very ordinary thing that you can easily purchase from a store or you can also order it from online. When the AC adapter is finally with you, that means you are ready to charge the laptop but first ensure yourself that the AC adapter you purchased is compatible with your device.
5. Nature-friendly or eco-friendly Charger
When you can have a nature-friendly charger that utilize the energy from the nature to charge your laptop, you have a good last resort option.
The energy is solar energy; this charger works by converting solar energy into the electrical energy in order to charge your laptop which is an adoring and eco-friendly way to charge your laptop.
As we all know that natural solar energy is more than enough in almost every corner of this world so it is a very cost-effective way to charge your laptop even if you live far away from the modern civilisation.
These solar chargers come with a very smooth and movable design so you can carry them easily.
6. Mega Batteries/Huge capacity Batteries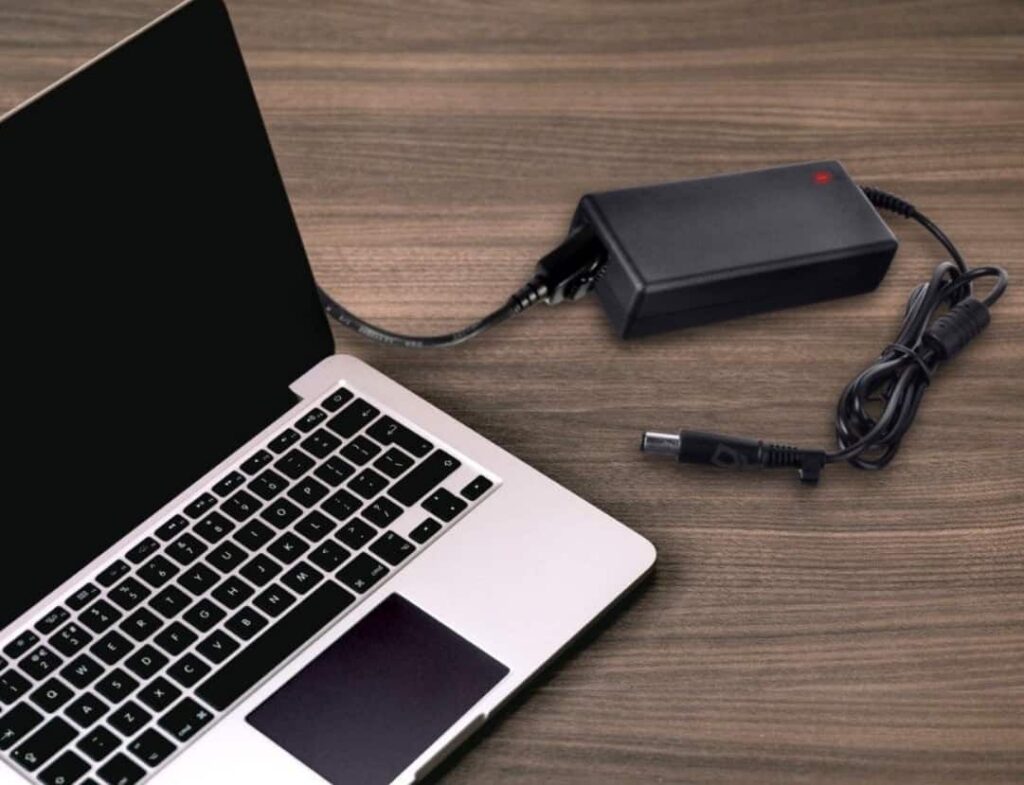 These are the optional batteries that you can easily get it from any type of laptop store or you purchase them online. These batteries can give you an ample amount of extra battery life of up to 7 hours in addition with your original laptop's battery.
To use the battery, you should first remove your battery from the device and then connect this mega battery with it and that's it, now you can easily charge your laptop.
These batteries are useful for those who has to utilize a laptop frequently as two batteries are sufficient enough from one.
7. Universal Type Charger or All Type Charger
Device can also be charged by using the universal adapters, however, there is a risk and you should charge your laptop cautiously as it can hamper your laptop battery.
It is because your laptop is comfortable in charging with your own charger, maybe it is not the same case with every universal adapter and that is why it is quite a risky technique.
Conclusion on How To Charge Laptop Battery Manually:
So, that's it from me and I hope you have enjoyed my guide on how to charge laptop battery manually.
Also Read: